Art techniques and skills are taught progressively across year groups in order for pupils to build on the skills they have learnt. In doing so they develop a more rigorous understanding of art, artists and how art has contributed to history and culture.
Pupils are taught drawing, painting and sculpture skills alongside colour, pattern, texture, line, shape and form where their work is recorded in a sketchbook.
At Rowlatts Mead Primary, pupils have had the pleasure of working alongside and observing our Artist in Residence, Colin Slater.  Colin has painted and developed a number of learning areas and corridors throughout the school to develop pupil's awareness and understanding, such as Influential people through history, Once upon a time, Ancient Rome, The Remembrance Wall and our exciting new area Under the sea which links in with De Montfort University's sustainability project.
Further to this, enrichment activities take place throughout the year which involve Diwali, Eid, Easter, Vaisakhi and Christmas design competitions.
Subject Leader:
Miss A Barratt
Impact
In Art Year 6 have been learning about perspective, teaching the pupils to give a three dimensional feeling to a flat image. This has allowed the pupils to create the most incredible paintings of the Titanic.

Year 2 have been experimenting with colours to create shades by merging and mixing to create an under the sea background for their art. They then layered different media to complete their final piece.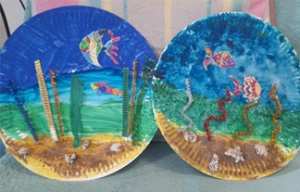 In Year 4 pupils have been looking at the artist Nixiwaka Yawanawa. They painted in the theme of Nixiwaka Yawanawa and created pictures of animals in the Amazon rainforest.