At Rowlatts Mead Primary Academy, we provide a high quality history education, taught chronologically in order to gain a coherent knowledge and understanding of Britain's past and that of the wider world. Our novel based approach in teaching History inspires children's curiosity to question and deepen their understanding of the past. Teaching and learning is planned as part of our creative curriculum to enhance children's ability to question, think critically and develop perspective and judgements.
Some of the key historical elements taught across the school focus on children knowing and understanding significant aspects of history of the wider world such as ancient civilisations (Stone Age), the expansion and dissolution of empires (The Roman and Ancient Egyptians), characteristic features of past non-European societies (Golden Age of Islam) and achievement and follies of mankind (World War 2). To support Historical enquiry skills in our children, teachers promote an emphasis on children to think as historians. In each key stage, children are given the opportunity to visit sites of historical significance as well as inviting historians to visit school to talk about their experiences, recreate historical experiences and examine artifacts.
Language and oracy is a key focus for children at Rowlatts Mead Primary Academy, across the school teachers ensure they explicitly model and teach clear progression of vocabulary linked to history taught. Thus enabling children to broaden their linguistic ability in being able to demonstrate common words and phrases of history over time. Our learning areas also provide plenty of opportunity to develop and enrich language as we have dedicated areas across the school, which reflect a period of history.
Below is an overview of the history covered at Rowlatts Mead Primary Academy:
Year 1 – Dinosaurs and Leicester in the past.
Year 2 – Queen Victoria and The Great Fire of London
Year 3 – The Stone Age and The Romans
Year 4 – Ancient Egypt
Year 5 – The Vikings and The Golden Age of Islam
Year 6 – World War II
Subject Policies/Plans
Subject Leader:
Miss L Trivedi
Impact
Across school, children are given many opportunities to deepen their understanding of history. Teachers ensure lessons are planned in creative ways to enrich children's passion and skills in history. Therefore, children are able to think critically, apply knowledge and ask historical questions about the topics learnt.
Year 3 were given an opportunity to enhance their knowledge and understanding of their Stone Age topic with an enrichment day. An archaeologist visited their classroom and brought real life artefacts for them to study, investigate and analyse. They also looked at Stone Age technology such as tools, weaving and pottery.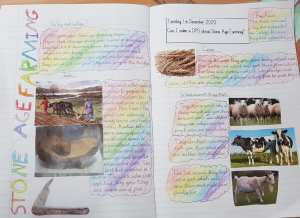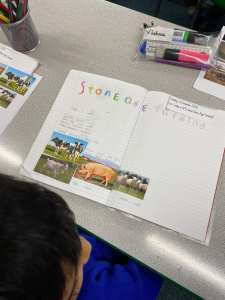 Year 2 enjoyed their topic of The Great Fire of London; they used their knowledge of time and place to order key events on a timeline, and made their very own Victorian houses that they proudly displayed in class!
Year 4 used their research skills to find valid facts based on their Egyptians topic. They also took part in recreating the mummification process, study Egyptian art and have a go at creating their own!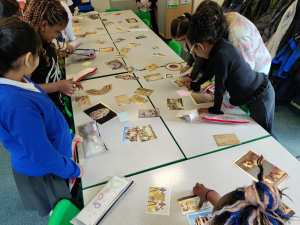 Each Year across the school we organise a Historical Artefact competition for children to take part in with families. Children and families have the opportunity to choose a historical artefact to study and recreate as a model. It is a fantastic way of families learning together and sharing their passion for history. Some fantastic model are created and judging the best one is always a difficult decision to make!